We have added two C-Squad games with Sentinel. The first will be at home this Monday, 1/31, at 5:30. The other will be @Sentinel on Monday, 2/14 at 5:00 in their auxiliary gym. (Departure time TBD)

Trojan Basketball in Seeley today. Schedule remains as previously scheduled: GJV-2:30 BJV-4:00 GV-5:30 BV-7:00

**Schedule change for tomorrow** Valley is not able to play a girls JV game so the games will be as follows: Boys C-squad @2:30 Boys JV @4:00 Girls Varsity @5:30 Boys Varsity @7:00

Two Week Sports Schedule 1/24-2/5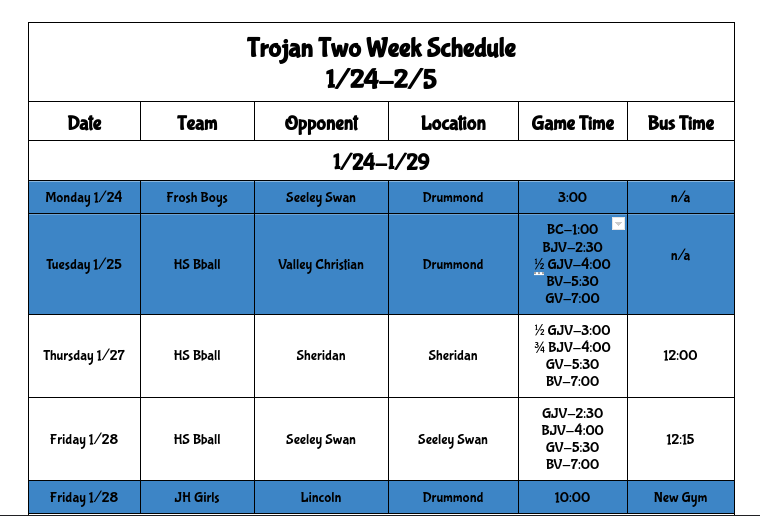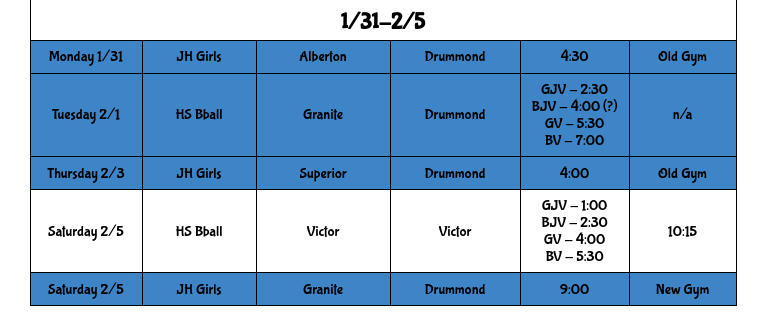 Reminder: Freshman boys will play Seeley Lake freshman at 3pm today in Drummond. One game only today.

There will be no boys JV game tomorrow due to St. Regis having kids out sick. Game schedule will be GJV-3:00, GV-4:30, BV-6:00. Bus time will be 12:00 rather than 10:30.

Due to accidents on I-90, tonights game with Darby will be a bit behind schedule. We will do our best to update game times as we know more. FYI: we were not involved in the accidents.

Reminder: Drummond School will be following the PRO Schedule tomorrow. Students will be released at 2:35PM.

We have added a C-squad boys home game with Seeley on Monday 1/24 at 3:00.

Updated HS Schedule Lincoln game has been rescheduled for 2/11. Varsity only with girls at 5:30 and boys at 7:00.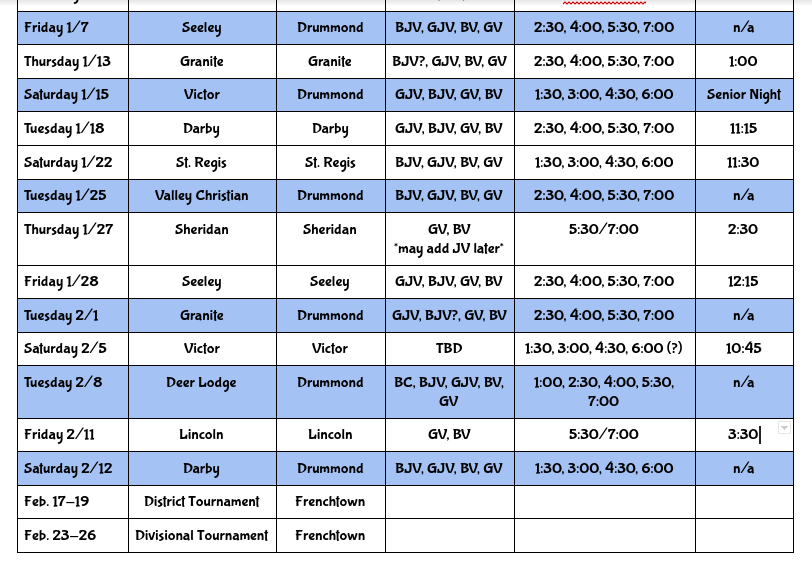 Updated JH Girls Schedule Granite game on Saturday will be in Granite and the Superior game on 1/25 has been rescheduled to 2/8.

Victor had bus troubles this morning. We will be behind scheduled times for all games today!

This Saturday Drummond will honor its Senior Trojan basketball players and managers. Seniors will be recognized at the beginning of the lady Trojans game at 4PM. Games begin at 1:30pm. Come out and show your support! #GoTrojans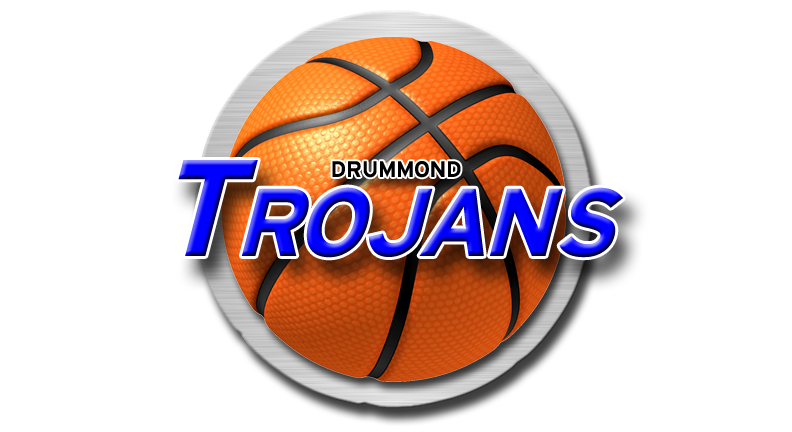 Reminder: Students will be dismissed at 2pm tomorrow. End of first Semester.

Reminder: Trojan basketball with Granite is this Thursday starting at 3PM in Philipsburg. This is a change from the original schedule.
Senior English class presented their research projects for the third grade class today!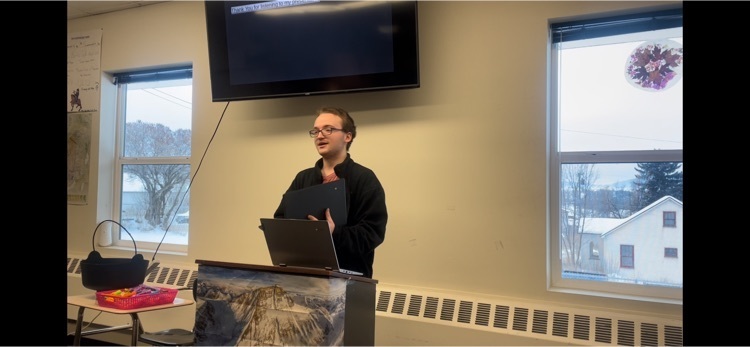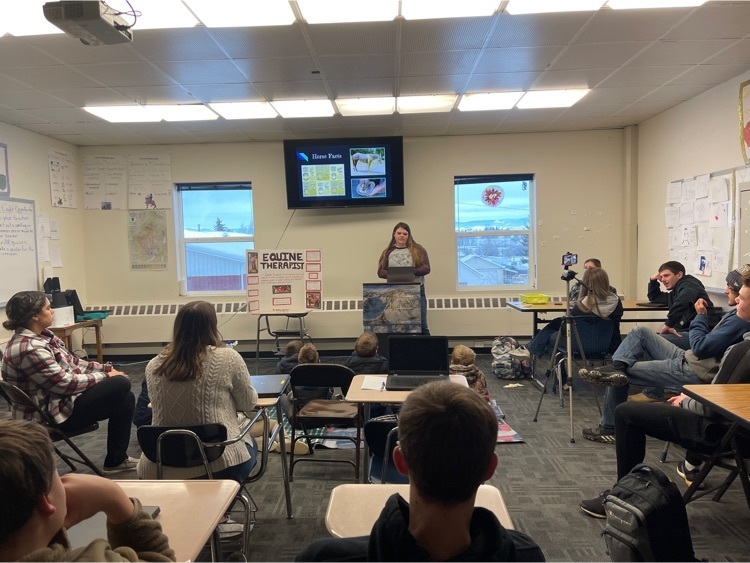 The Close-Up meeting for tonight has been canceled. It will be rescheduled soon Thank you.

We're doing a white out tonight! Come support our teams and get some free Trojan swag!! Boys JV- 2:30 Girls JV - 4:00 Boys Varsity - 5:30 Girls Varsity - 7:00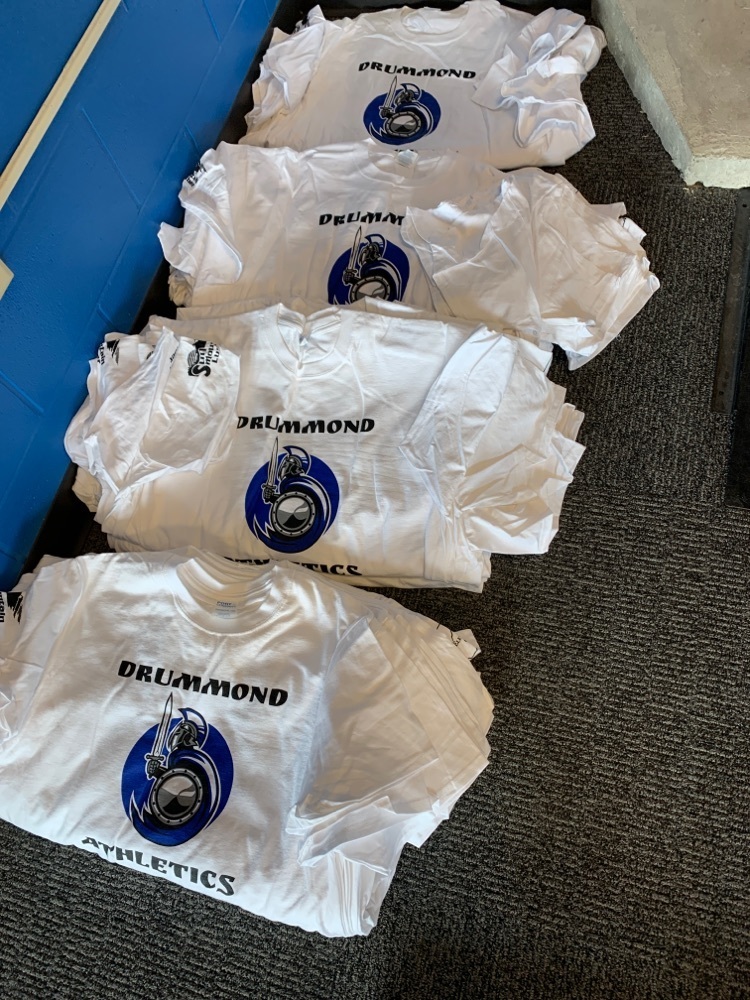 Due to weather and road conditions, we will be cancelling all after school activities today including the Varsity basketball games with Lincoln. We apologize for the late notice but were hoping for a break in the weather. The safety of our students and staff is our top priority. If you have questions, please call the school. Thank you for your understanding. Mr. Phillips

Tonight I was able to visit with our road crews who work so hard to plow our bus routes and roads keeping our kids and staff safe. At this time we plan to start school on Thursday at regular time, however because this situation is always changing, we may also consider a delayed start time. If we decide on a delayed start time you will hear from me as soon as possible tomorrow morning. If you hear nothing, we will be starting at the normal time. Be safe! Mr. Phillips